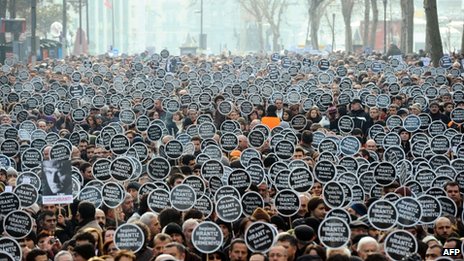 More than 10,000 protesters marked the fifth anniversary of a Turkish-Armenian journalist's murder on Thursday, January 19, as outrage continues to grow over a trial which failed to shed light on official negligence or even collusion.
Human rights activists placed red carnations on the spot where Hrant Dink was gunned down in daylight by a teenage gunman in Istanbul, outside of his minority Agos newspaper. Many carried black banners that read: "We are all Hrant, we are all Armenian."
Thousands marched silently for justice, a call shared by Turkish leaders and leading businessmen who expressed unease over this week's sentencing of one man, Yasin Hayal, to life in prison for masterminding the killing, while another 17 were acquitted of charges of acting under a terrorist organization's orders. The court neglected to issue its verdict about a 19th suspect. The gunman, Ogun Samast, was sentenced to nearly 23 years in prison in July, AP reported.
Turkey's leaders have vowed a thorough investigation into Dink's killing — also signaling dissatisfaction with Tuesday's court ruling by a panel of judges. Dink's lawyers said they will appeal the verdict.
The presiding judge of the Istanbul 14th High Criminal Court, Rüstem Eryılmaz, spoke with the Vatan daily on Thursday, Jan 19, and responded to criticism of the court's Tuesday ruling in the five-year-long Dink murder case. He said while he personally cannot deny the murder was well-organized, the evidence submitted to the court was not sufficient to issue such a ruling. "According to the evidence, there is no [illegal] organization [involved in the murder]. But we cannot say there is no organization involved in the case," Eyılmaz said.
Turkey's President and government officials sought to appease uproar over the verdict, calling for patience until the judicial process was completed, Hurriyet Daily News reported.
"I see the public's indignation. We have to wait for the completion of the judicial process. The ruling will be appealed," President Abdullah Gül said. He added that the State Inspection Board, which he had tasked with looking into the Dink probe, would soon complete its report.
source: Panarmenian.net