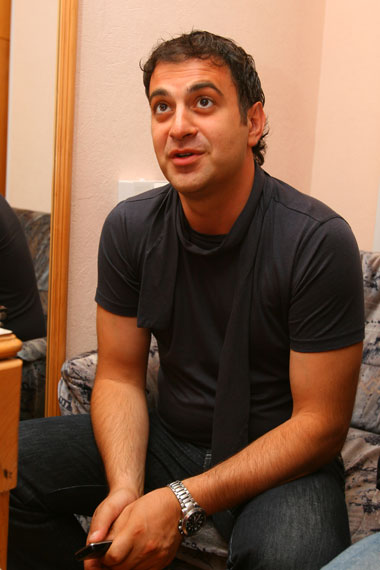 Garik Martirosyan (Гарик Юрьевич Мартиросян, Գարիկ Մարտիրոսյան) - famous showman, comedian and TV presenter etc.
He was born on February 14, 1974 in Yerevan, Armenian SSR. In 2002 he graduated from Yerevan State Medical University with a degree in neurology. Worked three years in a psychological hospital. From 1993 to 2002 was a member (captain from 1997) of the New Armenians team of the Russian TV show KVN.
From 2005 - one of the authors and members of the project 'Comedy Club', established together with his friends from the command 'New Armenians' Arthur Tumasyanom, Arthur Dzhanibekyanom, Artak Gasparyan and Artashes Sarkisian.
In 2006 together with Larisa Dolina he won the Two Stars TV show.
Since November 2006 - co-producer and co-script the show "Our Russia", leaving the on air on TNT.
2007 - Leading two seasons the show "Minute of Fame 'on the First Channel.
In December 2007 - took part in recording a music album 'Respect and пёп¦п¦пTя¬я-п¦' Paul Will.
In On May 17, 2008 - one of the leading show 'ProjectorParisHilton', leaving the First TV Channel.
Producer and writer-length film, 'Our Russia', is the director of the country on Oct. 29, 2009.
He and his wife Zhanna Levina met in Sochi, Russia. They have a daughter Jasmine, who was born in 2004.
source: www.armenian-history.com