from Smbat Minasyan - Dear visitors in this section you can find complete information and real photos of All Armenian coins (ancient, medieval and today's).
Also you can find photos of today's Armenian drams (money).
ancient Armenian Coins
Coins of Artashesian (Artaxis) dynasty kings (189-1 B.C.)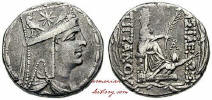 Tigranes (Tigran) II 95-55 BC - Drachm. Armenian King of the Kings

Tigran II - golden coin

Tigran II - silver coin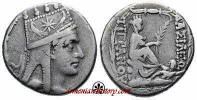 Tigran II 95-55 BC. Tetradrachm

Artavasdes (Artavazd) II (55 - 34 BC)

.

Tetrachalkous.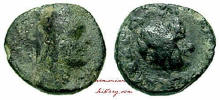 Tigranes III. 20-8 BC.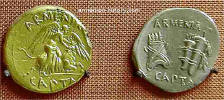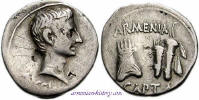 Armenia Capta by Tiberius for Augustus in 20 BC

Armenian Kingdom of Commagene - Antiochus (Antiochos) IV Epiphanes (38 - 72 AD)
Arsacids of Armenia (53 - 428 AD)

-

representatives of this Armenian royal dynasty didn't mint coins (maybe some of Arsacids king mint coins, but we don't know about that)
Period of Governors and Foreign Domination (428 - 885 AD)

-

during this period Armenia was under the rule of Greeks, Persians and Arabs. So Armenians used their coins.
Medieva

l

Armenian Coins (1080-1375)
Bagratid Dynasty of Armenia (885 - 1045 AD)
-
we knew that
Kyurike II (Kiutike)
king of Lori (Principality of Lori, Kyurikyan kingdom) minted coin. The first inscription in Armenian language was founded on that coin. It was only medieval coin with Armenian inscription minted in Greater Armenia. The type is based directly upon the anonymous Byzantine Folles of John Tzimisces and Basil II, both of which were commonly circulated in Armenia at the time.
Coins of Cilician Armenian barons and kings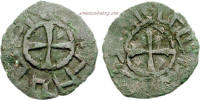 Roupen I. 1080-1095.Small Armenian cross.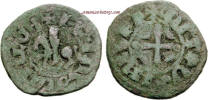 Levon I. As Baron, 1187-1198.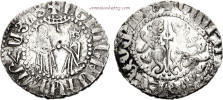 First king of Cilician Armenia - Levon I 1198-1219. Coronation Tram (Dram)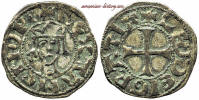 King Levon I (1198-1219), Denier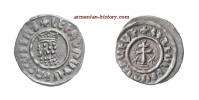 King Levon I (1198-1219)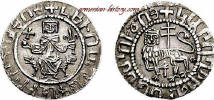 King Levon I (1198-1219).

Double Tram (dram)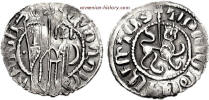 King Hetoum I 1226-1270. Tram (dram)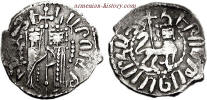 King Hetoum I 1226-1270. Half Tram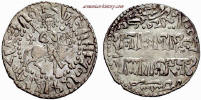 King Hetoum I

1226-1270. Tram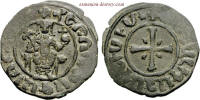 King Hetoum I 1226-1270
King Hetoum I 1226-1270
King Levon II 1270-1289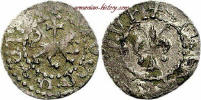 Smbat 1296-1298. Half Tram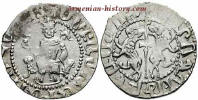 King Smbat 1296-1298.

Tram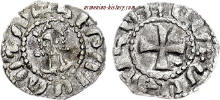 King Hetoum II. 1289-1293, 1295-1296, 1301-1305.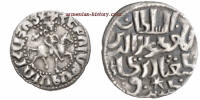 King Hetum II as vassal of the Rum Saljuq Kaiqubâd. Bilingual dirham/tram no date and mint (Sis).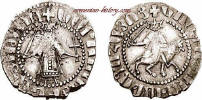 King Gosdantin I. 1298-1299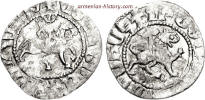 King Levon III. 1301-1307. Tavorkin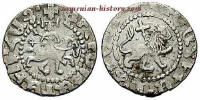 King Oshin. 1308-1320. Takvorin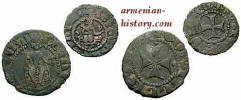 King Levon IV. 1320-1342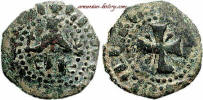 King Guy (Gosdantin II). 1342-1344

King Gosdantin III. 1344-1363

.

Takvorins

King Gosdantin IV. 1365-1373.Takvorins
King Levon V. 1374-1375
Coins which were used in Eastern Armenia during 19th century

Russian coins which were used in Eastern Armenia during 19th century
Rubles (drams, money) of the First Armenian Republic (1918-1920)
Drams (money) of the

Third Armenian Republic (1991-)

1993
Statue of Sasuntsi Davit
Mounts Sis and Masis (Ararat)
Urartian (Nairyan, Biaynilyan) inscriptions and pictures
1.Wonderful building on the Republic square
2.Armenian parliament
1. Mounts Sis and Masis (Ararat) and Zvartnots temple
2. Opera
1. Mounts Sis and Masis (Ararat) and Tigran's coin
2. Armenian ancient book (Matyan)

10 drams - 1994
Modern Armenian coins
1. Statute of Mesrop Mashtots and Matenadaran
1. Pagan Temple - Garni
2. Statue of Armenian goddess Anahit
1.Aram Khachatryan
1. Viktor Hambartsumyan
2.Observatory
1. Aleksandr Tamanyan
2. Wonderful building on the Republic square
1. Egishe Tcharenc
1. Hovhannes Tumanyan
1. Martiros Saryan
1. Egishe Tcharenc
1. Hovhannes Tumanyan

2003
1.Avetiq Isahakyan

2007
1. Martiros Saryan

Today's Armenian coins (coinage)