Situation of Sochi's Armenians and Voluntary army (Dobrovolcheskaya armiya) (second half of 1918 – beginning of 1919)
During blusterous civil war in Russia numerous Armenian communes on the South of Russia were used in selfish ends of local authorities. Strange as it may seem, some of local Armenian National Councils were rendering assistance to local authorities in accomplishment of their policy, which often was against the interests of local Armenian population.
In December 1918 and in the first months of 1919 in Sochi district of Black Sea province, where Armenians consisted almost 30 % of local population, arose a difficult political situation – began struggle between Georgia and Voluntary army of A.I. Denikin for superiority in Sochi district.
Georgian policy in Sochi caused dissatisfaction of local Armenian population majority of which began to support to A. I. Denikin. Command of Voluntary army took occasion to incite local Armenians against Georgian authorities. The policy of Voluntary army became a cause of military confrontation between Georgian army and Armenian population of Sochi district. Hiding his true intentions, Voluntary Army, under the pretext of protection of Armenian population of Sochi, captured district. Later on Armenian National Council in Sochi again was used by command of Voluntary army to stifle a rebellion of local population. In that way Armenian population of Sochi District fall a prey of Georgian government and Denikin policy.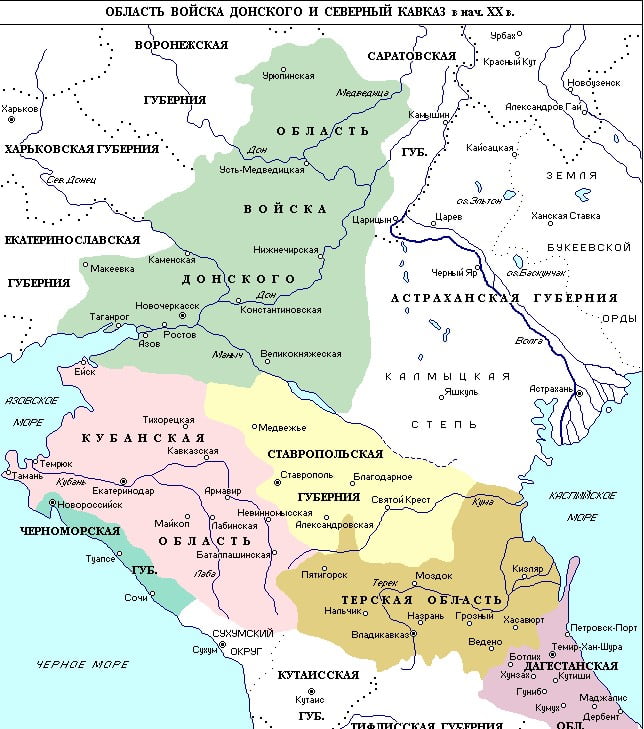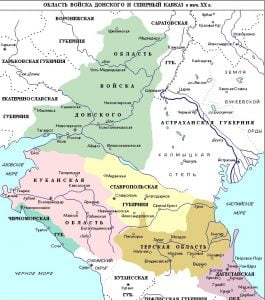 Սոչիի հայության դրությունը եւ Կամավորական բանակը (1918թ. երկրորդ կես – 1919թ. սկիզբ)
Ռուսաստանում մոլեգնող քաղաքացիական պատերազմի ընթացքում Ռուսաստանի հարավի բազմաթիվ հայկական համայնքներ շահարկվեցին տեղական իշխաննությունների կողմից իրենց նպատակների իրագործման համար: Որքան էլ, որ տարօրինակ է, որոշ տեղական հայոց ազգային խորհուրդներ աջակցում էին տեղական իշխանություններին իրենց քաղաքականությունը իրականացնելու գործում, որը հաճախ հակասում էր տեղի հայ բնակչության շահերին:
1918թ. Դեկտեմբերի եւ 1919թ առաջին ամիսների ընթացքում Սեւ-ծովյան նահանգի Սոչիի շրջանում, որտեղ հայերը կազմում էին տեղի բնակչության մոտ 30%, ստեղծվել էր բարդ քաղաքական դրություն. Վրաստանի եւ Կամավորական բանակի միջեւ սկսվեց պայքար շրջանում գերիշխանության հասնելու համար:
Վրացական կառավարության քաղաքականությունը Սոչիում հանգեցրեց տեղի հայ բնակչության դժգոհությանը, որոնց մեծ մասը սկսեց աջակցել Ա. Ի. Դենիկինին. Կամավորական բանակի հրամանատարությունը օգտագործեց առիթը տեղի հայությանը ընդդեմ վրացական իշխանությունների տրամադրելու համար: Կամավորական բանակի կողմից Սոչիի հայերի նկատմամբ իրականացվող քաղաքականությունը հանգեցրեց հայ-վրացական բախումների: Թաքցնելով իր իրական նպատակները, Կամավորական բանակը, Սոչիի հայերին պաշտպանելու պատրվակով, գրավեց շրջանը:
Հետագայում Սոչիի հայոց Ազգային խորհուրդը կրկին օգտագործվեց Կամավորական բանակի կողմից տեղաբնիկ բնակչության ապստամբությունը ճնշելու համար: Այսպիսով Սոչիի շրջանի հայ բնակչությունը դարձավ Կամավորական բանակի եւ վրացական իշխանության քաղաքականության զոհը:
Положение Сочинского армянства и Добровольческая армия (вторая половина 1918г. – начало 1919г.)
Во время бушующей в России гражданской войны множество армянских общин на Юге России использовались в корыстных интересах местных властей. Как это не странно, некоторые местные Армянские национальные советы оказывали содействие местным властям в осуществлении их политики, которая часто шла в разрез интересам местного армянского населения.
В декабре 1918г. и в первые месяцы 1919г. в Сочинском округе Черноморской губернии, где армяне составляли почти 30% местного населения, создалась сложная политическая ситуация: между Грузией и Добровольческой армией началась борьба за преобладание в этом округе.
Грузинская политика в Сочи вызвало недовольство местного армянского населения, большинство которых стало поддерживать А. И. Деникина. Командование Добровольческой армии воспользовалось этим, чтобы настроить местных армян против грузинских властей. Политика Добровольческой армии стала причиной военных столкновений между грузинскими войсками и армянским населением округа. Скрывая свои истинные намерения, Добровольческая армия, под предлогом защитить армянское население Сочи, захватила округ. В дальнейшем Армянский Национальный совет в Сочи снова использовался командованием Добровольческой армии, чтобы подавить восстание местного населения. Таким образам Армянское население Сочи стало жертвой Деникинской и грузинской политики.
Summary of scientific article -Author: Smbat Minasyan