25.08.2008 Armenian Military Emblem - Description and pictures

The Symbol of Armenian sovereignty.
The emblem is placed on rectangle shield and that placed below is on semi-rounded shield.
On the above edge on blue background, written is "ARMENIA", and below "ARMED FORCES".

El-Salih-Ayyoub died (in 1249) in the arms of his Armenian wife, who immediately took charge of the military operation and continued to fight against the enemies of Egypt.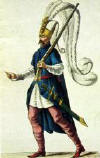 It was Sultan Murad (Murat) I (1359-1389) during the latter part of the Fourteenth century who transformed the Turkish army from mere plunderers into a regimented military organization. To bolster his army's strength Murad initiated a program to recruit young boys from Armenian and Greek families and developed them into a well trained, highly disciplined and coordinated militia and called it Janissaries (new soldiers)..

Two of the thirteen military leaders of the Hungarian War of Independence of 1848 who suffered martyrdom on 6 October, 1849, Erno Kiss and Vilson Lazar were of Armenian nationality.
It wasn't well known, that in 1848-49 how the Hungarian Armenians assisted the Hungarian nation's fight almost beyond their ability.
In the initial stage of the war on the Eastern front the German Command organized the headquarters of so-called ďEastern LegionsĒ. On Hitlerís order national legions were formed which had to fight against the Red Army for liberating their own oppressed national states on equal terms of the allies of Germany. In 1941 only four legions where formed which were armed organizations of the corresponding national committees in Berlin. In November-December of 1941 on Hitlerís order the following national legions were formed: Turkistan, Caucasian-Mohammedan, Georgian and Armenian.
14.08.2007
Armenian heavy Cavalry (AYRUDZI)

From the ancient times in Armenia exited "Azatavrear" cavalry which consisted from elite of Armenian tribes, later from elite of Armenian people. "Azatavrear" cavalry was the main part of Armenian kings court. Later, in medieval "Azatavrear" cavalry or Armenian heavy cavalry was collected from nobles (youngest sons of Armenian lords) and was known as AYRUDZI (man and horse, horseman).
30.07.2007
ARMENIAN LEGIONS IN ROMAN ARMY
Legio Prima (I) Armeniaca, Legio Secunda (II) Armeniaca

"Legio Armeniaca" translated from Latin as "Armenian Legion" and "prima" as "first". Armenian First Legion was one of the later period Roman empire legions. This Legion is mentioned in the late-antique text known as Notitia Dignitatum. Most Likely that Armenian First Legion was formed in 2nd or 3rd centuries A.D. in Western part of Armenia and had mission to protect that Armenian lands from intrusion.
30.07.2007
Situation of Sochiís Armenians and Voluntary army (Dobrovolcheskaya armiya) (second half of 1918 Ė beginning of 1919) English, RUSSIAN, ARMENIAN
During blusterous civil war in Russia numerous Armenian communes on the South of Russia were used in selfish ends of local authorities. Strange as it may seem, some of local Armenian National Councils were rendering assistance to local authorities in accomplishment of their policy, which often was against the interests of local Armenian population.
10.05.2006 The Caucasians in SD and Abwherís service
Since the middle 1920s special sabotage groups of Dashnaks, Mensheviks and Musavatists periodically under took attempts of passing the state frontier of the USSR from the territory of Turkey or Iran.
Sabotage and reconnaissance groups passed important information to those states with whom they were working at that moment and who they were being finest with.