Biography of Vazgen Sargsyan – Sparapet
Vazgen Zaveni Sargsyan was an Armenian military commander (Sparapet) and politician. He was the first Defense Minister of the Republic of Armenia.
Vazgen Sargsyan was born 05.03. 1959, in Ararat, Armenia.On October 27, 1999 was killed in Armenian National Assembly's session room and buried in Yerablur, military pantheon. Armenian politician and military.
1979 – graduated from Yerevan Sports Institute
1979 -1983 worked as sport teacher in his village's school
1983 -1986 – was secretary of Ararat cement plant's young communists organization
1986 -1989 – worked at Garun magazine's editorial board
1990 -1992 – was paramilitary groups commander and the chairman of Armenian Supreme Council's Security and Interior Affairs Standing Committee
1992 -1993 – was the first Armenian defense minister, presidential adviser on security and the president's representative in the republic's border regions
1993 -1995 – was the state minister
26.07.1995 – 25.05.1999 – was again appointed to the post of defense minister
1999, on June 11 – took up prime ministerial seat
1998 – was given Artsakh hero title and awarded with Golden Eagle order
After serving as defense minister, in June 1999 Vazgen Sargsyan became Prime Minister of Armenia. Soon in October 1999 he was killed in the building of Armenian parliament. Sargsyan's body is buried in Yerablur military cemetery.
1999 – was given Armenia's Hero title (posthumous)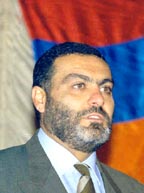 His role in Armenian army formation can't be forgotten. His contribution to Armenia's statehood building is very important as well. People gave him a name "sparapet" (chief commander).
In 2000 streets, schools in Armenia and Artsakh and the military institute and units were named after him.