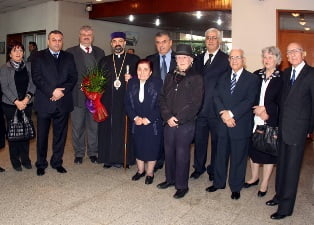 Armenia's Ambassador to Lebanon, Ashot Kocharyan, visited Wednesday the retirement home and the special school for children of the Center for Armenian Handicaps in Lebanon (CAHL), and the Lebanese-Armenian community's Zvartnots Center for Armenian children with mental disabilities.
Ambassador Kocharyan conveyed these institutions' directors and residents Armenian President Serzh Sargsyan's warm greetings and presented his monetary donation in connection with the Christmas and New Year holidays.
The Ambassador will also visit Lebanon's Trchnots Pouyn (Birds' Nest) Armenian Orphanage, and convey the orphan children the President's best wishes and present his donation.
source: www.armenian-history.com