Biography of Monte Melkonyan (Melkonian)
Monte Melkonyan born in Visalia (November 25, 1957  was killed June 12, 1993), California and educated at Berkely, was a famed Armenian military commander in the Karabakh war. He is credited for major military victories against Azerbaijan from 1992-1993.
Melkonian had no prior service record in any country's army before being placed in command of an estimated 4,000 men in the war. He had built up his experience beginning from the late 1970s and 1980s where he fought against the various splintering factions in the Lebanese Civil War, against Israeli troops in the second Israeli invasion of Lebanon and was a member of ASALA.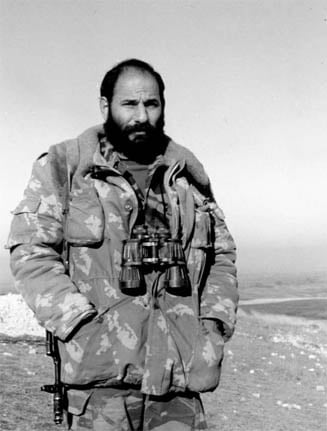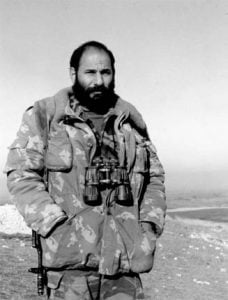 Monte spent over three years in Fresnes and Poissy prisons. He was released in early 1989 and sent from France to South Yemen, where he was reunited with Seta. He then spent another year and a half living underground in eastern Europe, as one regime after another disintegrated.
On October 6, 1990 Monte arrived in what was then still Soviet Armenia. Seta and Monte were married at the monastery of Geghart in August 1991.
Finding himself on Armenian soil after many long years, he wrote in a letter that he found a lot of confusion among his compatriots.
Armenia faced enormous economic, political and environmental problems at every turn, problems that had festered for decades. New political forces bent on dismantling the Soviet Union were taking Armenia in a direction that Monte believed was bound to exacerbate the crisis and produce more problems. Yerevan was swept up in an atmosphere of chauvinism and exasperatingly foolish illusions about the West.
Under these circumstances, it quickly became clear to Monte that, for better or for worse, the Soviet Union had no future and the coming years would be perilous ones for the Armenian people. He then focused his energy on Karabagh. "If we lose [Karabagh]," the bulletin of the Karabakh Defense Forces quoted him as saying, "we turn the final page of our people's history." He believed that, if Azeri forces succeeded in deporting Armenians from Karabagh, they would advance on Zangezur and other regions of Armenia. Thus, he saw the fate of Karabagh as crucial for the long-term security of the entire Armenian nation.
In April 1993, Melkonian was one of the chief military strategists who planned and led the operation to capture the region of Kalbajar, which lies between the Republic of Armenia and Karabagh. Armenian forces captured the region in four days of heavy fighting, sustaining far fewer fatalities than the enemy.
In the early stages of fighting in Karabakh, small groups of volunteers Fedayee, or "brigades" (jogadner) played a major role in the fighting. Monte was a member of one such group in the Shahumian region. He quickly became disenchanted with them, however, for a number of reasons: their tendency to emulate the Azeri practice of executing captured prisoners; their adoption, in more than one case, of the aesthetic trappings of fascism; and their military inefficiency, compared to more professionally organized and disciplined forces. For these and perhaps other reasons, he set out to curtail the activities of the Fedayeen in Martuni.
Monte never wore a pistol; he never smoked; he swore very rarely; and he never drank liquor while in military uniform. When he participated in the traditional toasts, he would raise a glass of yogurt. He handed his monthly salary over to cooks, cleaning women and the families of wounded soldiers, and time and again he turned down privileges, preferring to live under the same conditions as the fighters under his command. He established a policy of collecting a tax in kind on Martuni wine, in the form of diesel and ammunition for his fighters. One night in January 1993, he personally stopped a truck smuggling contraband wine to Stepanakert, and dumped the entire tank load onto the road. A couple of weeks before his death, he incurred the wrath of local Mafia bosses in Karabagh-and defied the advice of close friends-by burning a large field of cultivated cannabis plants.
Monte's activities in Martuni were not limited to the military field. He supported the operation of a cooperative bakery in Martuni; he visited reactivated elementary schools and hospitals; and at the time of his death, he and Seta were planning to set up a worker-owned carpet manufacture, to employ local women who were skilled weavers. In a country with a rigidly patriarchal culture, Monte discouraged discrimination against women, chiefly setting an example for men to follow in the conduct of their daily affairs. He washed dishes, appealed to women to fight on the front lines and considered female staff in the radio room and the kitchen at headquarters to be fighters on an equal footing with uniformed soldiers on the battlefield. His reputation for modesty and directness earned him the affection of the civilians he defended.
Death
Monte was killed in the abandoned Azeri village of Merzuli in the early afternoon of June 12, 1993, with controversial reports about the circumstances of his death.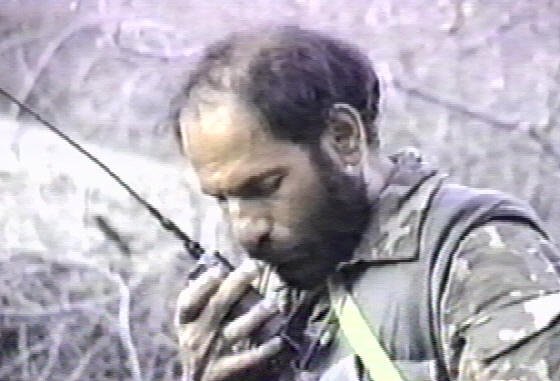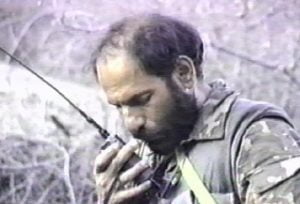 Monte was buried with full military honors on June 19, 1993 at Yerablur military cemetery in Yerevan, Armenia. According to one estimate, some 15,000 people filed past his open casket as it lay in state at the Officer's Hall in Yerevan. Among the dignitaries present were Levon Ter-Petrosyan, President of the Republic of Armenia, high-ranking Armenian and C.I.S. military leaders, and members of all the major political parties in the country.