Capitals of Armenia
Հայաստանի մայրաքաղաքները
- Reproduction in full or in part is prohibited
Author:

Smbat Minasyan - E-mail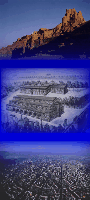 Armenian Capitals
( located in Great Armenia, Metz Hayk)


13 wonderful

Armenian

capitals.

I

n different historical periods

they were

the symbols of the power

and greatnes

s

of Armenian sovereignty. Each of

these

cities

in his historical period was the object of admiration

in

ancient and medieval world. Many foreigners

amazed of the

beauty

and magnificence of Armenian capitals.
5.

Tigranakert

(Տիգրանակերտ)

English, Armenian

6.

Vagarshapat

(Վաղարշապատ)

English, Armenian

7.

Arshakavan

(

Արշակավան

)

English, Armenian

10. Erazgavors (Երազգավորս) English, Armenian

11.

Kars

(Կարս)

English, Armenian

13.

Yerevan

(Երեւան)

English, Armenian
Capitals

of Cilician

Armenia
( located in CilicIa)
Sis

(Սիս)

English, Armenian
Other Armenian capitals (Komagene, tzopq, poqr Hayq)
Arshamashat English, Armenian
Samosat English, Armenian
Armenian cities located in Western and Persian Armenia
Adamakert, Alashkert, Akn, Amasia, Ani, Arabkir, Ardahan, Ardvin, Artcke, Arcn, Argana-Maden, Archesh, Arshakavanm Arshamashat, Artamet, Artanujm, Baberd, Bagaran, Balu, Bayazet, Berkri, Bitlis, Gyumushkhana, Diadin, Diarbeqir, Dilman, Erazgavors, Erznka, Zarehavan, Zarishat, Igdir, Kharberd, Khlat, Khnus, Khozat, Khoy, Kagzvan, Kamakh, Kapan-Maden, Garaqilisia, Karkatiokert, Karin, Kars, Harzru, Hasankala, Chapagjur, Malatia, Maku, Mamakhatun, Manazkert, Mecker, Moks, Mush, Shapin Garahisar, Shatakh, Vostan, Chmshkacag, Jermuk, Salmast, Sarigamish, Sebastia, Sper, ,Sgerd ,Vagarshavan, Van, Tevrik, Tigranakert, Peri, Urmia, Qgi, Olti.
SOURCES
armenian-history.com

Հայ ժողովրդի պատմություն, ակադեմիական հատորներ

Հակոբյան Թ.Խ. Պատմական Հայաստանի քաղաքները, Երեւան 1987